Two Ontario hot water heater installers were charged with more than 400 counts of fraud this past week, according to GuelphMercury.com and CP24. A provincial investigation by the Consumer Services Ministry found that Mr Tankless Inc and Ontario Ensource Inc had signed contracts with customers for the installation of water heaters and other appliances, and hadn't delivered. The ministry had received a number of complaints from customers about the two companies, which are charged with failing to provide refunds and a variety of other problems over home energy audits and government rebates.
Water heater scams aren't new
This is nothing new for Toronto, however, it has been going on for years. Back in 2009, the Toronto Star ran an article about several companies called National Home Services, LivClean, and more energy, among others, which we're sending sales agents door to door to try and get consumers to switch hot water heater supply companies.  As always, major league players Direct Energy and Reliance Home Comfort denounced them in the strongest terms, accusing them of lying and misrepresentation.
How it works
The sales agents try to pretend they are with your current hot water service provider, just to get you to open the door. Once in, they have a variety of tricks up their sleeve, including
Leading you to think the service provider has gone under or been taken over, and that they are taking over the contract for your hot water heater;
Pretending to be technicians charged with scheduling water heater replacements;
Suggesting that your water heater is out of date or no longer safe and requires replacement;
Promising to save you money on your current bills by installing a new hot water heater and taking a contract with their company.
Once you sign, you're left with the problem of canceling your existing contract and incurring high costs for doing so. While you can usually cancel your contract with them if you move quickly, many people only realize this after a few weeks have passed, by which time it's too late to do so unless you "buy" your way out of the deal – for example, LivClean charges a cost of $400 to buy out the contract.
Protecting yourself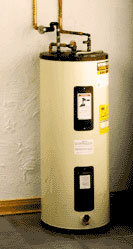 Direct Energy currently runs a radio ad, where the homeowner's wife chides him for signing just such a contract, and he counters by saying "but he had a clipboard" several times. The company states publicly that it doesn't require customers to sign long-term contracts, and has a website called Hot Water Straight Talk where you can learn all about the scams going around and how to protect yourself. Reliance also offers a similar resource, called Burned at the Door.
If you're in any doubt about whether you need a new hot water heater, contact your local plumber for a free inspection. Don't sign anything until you've done so.