The emergency plumbing service in Toronto for residential and commercial properties. Contact us now to solve your problem fast!
At ADP Toronto Plumbing, we take all of our work seriously, but we understand some jobs that require a sense of urgency. For the plumbing problems that just can't wait, we have a team of emergency plumbers that are ready to come out whenever you need help.
Just call our support team and we can dispatch an emergency plumber to any location in the Greater Toronto Area at any time of the day or at night. Our emergency plumbing service has qualified professionals that are on call 24 hours a day, and they will get to your location as quickly as possible to ensure that your plumbing emergency is taken care of in a timely fashion.
Leaking or Burst Pipes
Whether it is frozen pipes, leaks or a pipe that has burst, you can't wait around for regular business hours. As you wait, the water could be flooding your basement, damaging drywall or exposing parts of the home to water damage. If you call ADP, we can be on the scene in a hurry to limit the damage and to fix your burst or leaky pipes. If you don't know exactly where the leak is, our emergency plumbers are also experts at leak detection.
Clogged Drains
While there are some clogged drains that can wait, there are also those that need attention right away. If a clogged drain is exposing your home to the potential for water damage, you can't wait for a scheduled appointment. If a backed-up toilet or shower drain is making life difficult, then you need an emergency plumber on the scene.
For clogged toilets, backed up shower drains or clogged sinks, ADP can be there when you need us. Just contact our support team, and we can get one of our professionals on the job at any time. We'll investigate the drainage problem, make a diagnosis and getting the drain working again.
Basement Flooding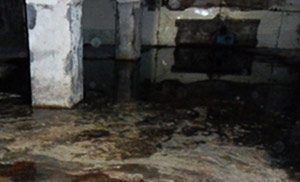 Any number of things can cause basement flooding, but when it does occur, you can count on the team from ADP Toronto Plumbing to be there for you. It could be heavy rains and bad weather, a burst or frozen pipe or it could be a backed-up sewer line. Whatever the problem may be, our emergency plumbers are ready to head out at any time to provide service.
Once we have your basement flooding problem squared away, we can also provide a variety of services that can prevent flooding in the future. We offer basement waterproofing, repair, and installation of sump pumps, maintenance for weeping tile systems and we offer backwater valve installation for sewer lines.
Emergency Plumbers in the Greater Toronto Area
Whether it is any of the issues we have named here or any other plumbing emergency, ADP Toronto Plumbing has a team you can trust. We pride ourselves on providing the highest standards of service regardless of the time of day, and we are ready to come out whenever you need an emergency plumber. Call us now if you are in the middle of a plumbing problem that can't wait for a scheduled appointment. We'll come whenever you need us.
2 Big Reasons Reasons You'll Need Emergency Plumbing Service in Toronto
Plumbing emergencies can strike when we least expect it, that's exactly what makes an emergency occur. Within the City of Toronto, there are quite a number of plumbing emergencies that occur as a result of our climate and general plumbing infrastructure. Here are three of the most common reasons that you might find yourself in need of an emergency plumber.
Frozen Pipes That Break
The winter is predictably cold in Toronto. Pipes that are exposed to the elements and have not been properly drained or insulated are prone to freezing solid. We all know that a bottle of water, or pop, will explode when sealed and placed into the freezer, as a result of the expansion of water that occurs upon freezing. In an identical manner, pipes that contain water and freeze will also explode or burst. Once this happens it's common for the flow of water to resume and you have a burst pipe that is now causing flooding problems or at the very least an expensive water bill. It is essential that burst or frozen pipes be dealt with as soon as possible.
Clogged Drain (Overflowing Toilet & Blocked Kitchen Sink)
Another common problem we encounter is an overflowing drain caused by a blockage. This is quite common with toilets as a large volume of water flushes into the bowl if there happens to be an obstruction that the user was not expecting it can cause quite a bit of water to flood into the bathroom. Some homeowners may attempt to solve this problem with a plunger only to discover that the issue is far greater than a plunger is able to solve. Additionally, a blocked kitchen sink drain can spell disaster for those who are looking to make dinner or host a party. These are two common types of plumbing emergencies that we solve.
Plumbing emergencies are usually very stressful situations – we are here to help. Contact us today at 416-822-2221.