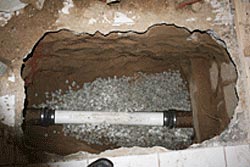 Drain repair Toronto residents depend on.
Occasionally (more often than not) there will be problems with either the main drain or the sewer drain in buildings. The most common cause is old pipes, sometimes even made out of clay. Other causes could be foreign object blockage or tree root penetration. Drain repair services are required to solve these and other common problems.
These could cause constant clogs, or even burst pipes. At the first sign of drainage problems (such as a clogged drain, or water that is slow to drain), it's important to call a professional as you may need to repair your drain. Delaying these much-needed repairs could cause flooding and may even result in extensive damage to your property.
There are many methods to repair drainage problems and as professionals, we possess all the necessary plumbing supplies to solve your problems.
First, we'll evaluate your problem and choose a fitting course of action to resolve it quickly and with maximum efficiency. The first step is drain inspection, which we often do through the use of a fiber-optic CCTV drain inspection camera, used to look into the pipes and identify blockages, burst pipes, or other problems. Once we find the problem, we'll go over the plan of action and the steps we need to take to complete your drain repair.
Sometimes it becomes necessary to completely replace drains or pipes. For instance when a french drain has completely broken, or after drain cleaning, we inspect and find cracks or breakages that were hidden by debris. When this occurs we have you covered, offering advanced drain repair Toronto homeowners can depend upon, including drain lining and pipe bursting.
Trenchless Repair Techniques
Trenchless drain repair refers to a variety of methods we use to repair drains without digging time-consuming, messy trenches. One trenchless repair method is drain liner insertion, also referred to as cured-in-place pipe lining (CIPP). This is a process we use to fortify old pipes and involves inserting a resin-fortified bladder into the pipeline and allowing the resin to cure. This can be done with access to a single end of the pipe and does not require digging trenches at all. In some cases, a single hole will need to be dug but this causes far less disruption when compared to old excavation methods.
Another method of repairing a drain, that does not require digging holes in your yard, is pipe bursting. This method is used for replacing old clay pipes with new plastic pipes. This is accomplished through the use of specialized pipe bursting tools, such as expanders and pullers. The expander fractures the pipe and pushes it out of the way, while the puller brings up a new plastic pipe behind the freshly broken pipe.
These methods are useful for pipes running underneath buildings or in areas where the landscape cannot be disturbed. If you're interested in trenchless drain repair, give us a call and let us know. This is an amazing new modern plumbing technique and all of our plumbers are trained and experienced with it.
Trusted by Toronto Residents for Over 15 Years
We've been in the business for over 15 years and have repaired drains all over the City of Toronto during this time. When it comes to drain repairs, our plumbers are versed in all of the modern techniques and possess all of the required equipment and know-how to make your repair job go smoothly and efficiently. Whether it's a problem that we've discovered during a routine toilet repair or an issue with your sewer or storm drain you've known about for a few months, we offer fast and effective plumbing services.