Professional drain installation services in Toronto.
Choose us for your next drain installation and you will be pleasantly surprised. There are many fixtures and plumbing systems in your home; sinks, toilets, showers, bath-tubs, virtually any fixture will require a drainage system. The plumbers at ADP have many years of experience installing drains and sewers in a variety of environments all over the Greater Toronto Area. Our commitment to staying current with the advancement of technology allows us to implement the most advanced drain installation techniques, making your job quick and painless. Whether the job is installing a drain for a sink or installing a sewer or drainage for new construction, we cover it. We also provide full sewer installation services.
The skills you need
Our highly trained plumbers are experienced installing a drain for a kitchen sink, or an entire drain-waste-vent system for new construction. As an insured, licensed, and the bonded contractor you can trust our craftsmanship – we have the skills, equipment, training, and experience to meet your wishes and complete your job.
Installing a drain can be a simple, painless job when you hire one of our expert plumbers. We install many types of drains, including:
Cast iron
PVC
Copper
Storm drain
Shower/Bath-tub drains
Sink and garbage disposal drains
Drain-waste-vent systems
Septic/Sewage drainage
French drain installation
Our drainage installation services are fast and cost-effective. Call us for a quote today, and we promise we'll drain your plumbing problems, not your bank account!
Why choose us to maintain or install a drain?
Improperly installing a drain can cause major problems down the road, issues can arise including flooding and property damage. When you choose a professional for your drain installation needs, you can rest easy knowing that our workmanship is top-notch – we are experienced, professional Toronto plumbers. We quite often go out on jobs where other plumbers have installed a drain incorrectly, causing it to frequently clog and create a mess of headaches for both home and business owners alike. Proper drain installation reduces not only the risk of clogging but also the need for repairs down the road.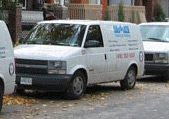 A high-quality, professional plumbing contractor
ADP is a fully licensed, bonded, and insured plumbing contractor. Our plumbers work-vans carry just about anything that might be required on a sewer installation plumbing job. Our amazing team of plumbers are licensed and have years of experience and training – most importantly they have a can-do attitude that will leave you with a smile on your face and a new drain, without draining your bank account. When we quote a price to you, that price will not magically change during the job, and you can count on that. We have been providing quality plumbing services in the Greater Toronto Area for over 10 years, and we're sure that whatever the job, we can handle it. When you hire the professional Toronto plumbers at ADP for your drain installation, you are not just getting a run of the mill plumbing contractor. You're getting a fully licensed, insured and bonded plumbing contractor.