Complete plumbing inspection Toronto residents can depend on; for commercial and residential properties.
With ADP Toronto Plumbing, you have licensed Toronto plumbers that offer full-service plumbing inspection. Whether you are looking to have a home inspected before purchasing, having a problem with drains or water lines that will require some level of inspection, or if you just want an inspection as a part of preventative maintenance, our technicians have the experience and the knowledge to perform a thorough inspection for all of the plumbing in your home or business.
Inspections for Homebuyers and Sellers
When buying or selling a home, a plumbing inspection can help to ensure that there are no problems that could affect the value of the sale. Of course, having the entire home inspected is a good idea, but a home inspector is unlikely to investigate the plumbing as thoroughly as a licensed plumber would.
If you are planning to buy or sell a home, ADP Toronto Plumbing can come out to perform a complete plumbing inspection. We'll check for leaking water lines and drains, defective fixtures, the hot water heater and we can perform a full inspection of the sewer line.
Plumbing Inspections for Home Remodels
A plumbing inspection is recommended for any time you plan to remodel part of a home. Even if you are not planning to do any work to the plumbing, an inspection can help to determine if any pipes or drains might be affected by the work. The inspection may also identify issues that might need to be addressed through the course of the remodeling process.
Inspecting Plumbing for Leaks
If you suspect that there is a leak in the home, a plumbing inspection is a good measure to ensure that you catch the problem early. You might not actually see water leaking anywhere, but you might have noticed a sudden loss of pressure or water bills that seem to have gotten higher for no explainable reason. Either way, it is a good idea to have a professional come to perform an inspection. The plumbers at ADP Toronto Plumbing are experts at leak detection, so if there is a problem, we will find it.
Drain Camera Inspections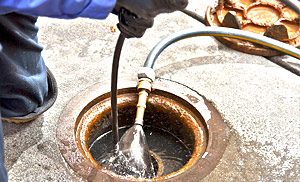 If you have frequent or reoccurring problems with your drains, then it is time to call in some pros for an inspection. Using a CCTV drain inspection camera, the professionals from ADP Toronto Plumbing can diagnose a number of different issues that could be causing problems with your home drains. Using these fiber-optic cameras, diagnosing drainage issues is much faster, easier and the process is much more cost-effective.
Inspecting Your Plumbing for Home Maintenance
Inspecting your plumbing can also be a crucial role in preventative maintenance. A professional plumber can come out to perform a thorough inspection, and this gives the homeowner the opportunity to identify any small issues before they turn into major problems. In an inspection that is intended for preventative maintenance, the plumber would cover all of the same points that they would in inspecting the plumbing for a person that is looking to buy a new home.
Complete Inspection Services in Toronto
The team from ADP Toronto Plumbing is here to service all of your plumbing inspection needs. Whether you need a full home inspection or have a specific concern that requires inspection, we have the tools and the expertise to perform a thorough inspection of the entire plumbing system. Contact ADP Toronto Plumbing to schedule your next plumbing inspection.
Hiring a competent licensed plumber is the only way to ensure that your home or business has had a proper and complete inspection. This is one area that you cannot cut corners and expect to come out with the full picture – the problems that are missed will still exist and the potential for expensive repairs or liabilities down the road are very real. We highly encourage anyone that has a need for an inspection to have the job carried out properly the first time.
Contact us today for a complete Toronto plumbing inspection, we offer a free consultation so that you can be certain your needs will be met by our services.