We provide Toronto pipe leak repair service including full leak detection for commercial and residential properties.
Leaking pipes can cause all sorts of problems for Toronto homeowners. In many cases, you might not even notice the leak right away, and it can go on leaking water and possibly causing damage to the home while you are unaware.
At Absolute Draining & Plumbing, we are experts at finding and repairing leaking pipes. Our technicians have the skills and training to find hard to locate leaks, and we use some of the most advanced leak detection equipment that is currently available. With leak repair service from ADP, you have skilled plumbers that are dedicated to providing the best possible service for the detection and repair of leaking pipes.
Signs of Leaking Pipes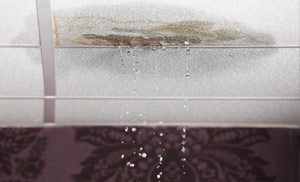 Some pipe leaks might be obvious even to the untrained eye, but there are many leaks that are much more difficult to identify. A leaking pipe that is in a wall or ceiling might not be readily apparent or it could be a leak in an underground supply line. If you think there may be a leaking pipe in your home, there are some signs that you can look for.
In some cases, the signs of a leaking pipe might be visual. If you see water dripping from an exposed pipe in an area like the basement, that is a sign of a leak. You might see stains or water damage on walls or ceilings, which can be another sign that you have a leak. Things like mold and mildew on walls outside the shower can also indicate the presence of leaky pipes.
Many homeowners become aware of leaks because of their water bill. If you notice a significant increase in your water bill, it might be the first sign that you have leaking pipes in your home. If you think there might be a leak, you could try turning off all of the faucets and fixtures that draw from the water supply. If you see that your meter is still turning with everything turned off, then there is a good chance that you have at least one leaking pipe.
Causes of Leaking Pipes
You have a variety of factors that can contribute to problems with leaking pipes. With most pipe leaks, corrosion is the most likely culprit. Older galvanized pipes commonly have problems with rust, and while corrosion problems are less common with copper pipes or PEX, there are conditions that can increase the risk of corrosion in copper or PVC pipes.
The joints in your water supply pipes can also begin to deteriorate or degrade over time. The water hardness can be another factor that will increase the potential for pipes to develop leaks. Things like high water pressure and water that is of particularly high temperature can also contribute to problems with leaking pipes.
Another potential problem is pipes that have been damaged as a result of the use of drain cleaning chemicals. It is strongly recommended that you use proper drains cleaning methods such as a drain snake or hydro-jet cleaning rather than attempting to use a chemical cleaner.
Leaking Pipe Repairs in Toronto
Leaking pipes can do more than wastewater and increase your water bills. They can damage your home in a number of ways. If you have any leaks in your home, then you need to get them repaired right away. Contact Absolute Draining & Plumbing for all of your leak detection and leaking pipe repairs in the Greater Toronto Area.
Hire Professionals to Find Your Leaking Pipes Fast
A leaking pipe can be quite a problem. Even a tiny leak can end up causing massive water damage, or at worst a very expensive water bill. If you suspect you have a leak you should do what you can to mitigate the damage as quickly as possible by calling on a professional.
An expert leak detection company with have a team with the tools and knowledge to find and fix leaks fast, in a wide range of environments. Whether it's an underground water leak, a slab leak, or a leak in a wall in your home. Our service includes commercial leak detection all across the Greater Toronto Area.
For more details be sure to give us a call for a free consultation. Explain to us the specifics of the leak you believe you have and we will describe how we can help, including details if you wish to understand the process in depth.