Testing, maintenance, and installations – our team is ready to handle all of your backflow prevention device needs.
Our licensed technicians can assess your property to determine the required steps and devices for backflow prevention on your property, and our Toronto plumbers are trained and certified for Backflow prevention testing and installation service.
What is backflow and why are prevention devices needed?
A backflow is an event where the normal flow of water reverses. This can cause water that is in the lines on a property to reverse back into the municipal water supply lines. When this occurs, it exposes the water supply to the risk of contamination, and backflow prevention devices are used to prevent this reversal of flow. It's important to make certain that your plumbing is working properly including a backflow preventer, our Toronto backflow prevention testing services will ensure that your building is free from problems and in compliance with the local municipal bylaws.
Toronto's Backflow prevention testing and installation Program
Many municipalities require certain properties to have backflow prevention devices. In Toronto, the Water Supply Bylaw mandates that all commercial properties, industrial properties, institutional locations, and some residential properties have backflow prevention devices.
For the most part, single-family homes will not be required to have a backflow prevention device, but there are some exceptions. When you contact us we will explain to you in detail the various situations whereby you would be required to have a backflow prevention device installed, and if required our team will provide Toronto backflow prevention installation services for you.
In the Water Supply Bylaw, there are codes that outline the types of properties that will need backflow prevention devices and the type of device that will be needed. There is also the requirement for a building permit with the installation of any backflow prevention device, and a schedule for maintenance and inspection must be established. Our team is fully certified and experienced in the testing procedures, enabling us to ensure your property is complying with local bylaws. Contact us regarding our Toronto backflow preventer testing service for a consultation today.
What type of backflow prevention device is needed?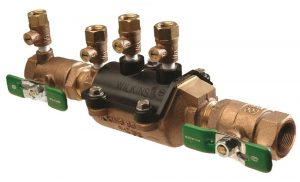 Different properties will need different types of backflow prevention devices. A risk assessment is performed to determine the correct type of backflow prevention device for different properties. In the assessment, a property will be classified on a scale that goes for low risk to moderate risk and then to severe risk.
Properties that meet the requirements for low risk will not be required to install a backflow prevention device. The vast majority of businesses will not meet the standards for low-risk classification, but some smaller retail operations might be able to obtain this status.
For properties that fit within the guidelines for a moderate risk of backflow, the most common requirement is the installation of a Double Check Valve Assembly. For businesses that are classified under severe risk, the standard requirement is for the installation of a Reduced Pressure Principle device. Not only is it important that your property has the correct valve installed, but it is also important that it is doing the job as intended. There are times we have conducted tests that while they have a valve installed correctly it has in fact been bypassed and thus it is not doing its job as intended.
Our team will ensure your property is in compliance with the local City of Toronto bylaws, or any neighboring municipalities bylaws. Call us to discuss your options and we will dispatch a technician to aid you as soon as possible.
Testing backflow prevention devices
Along with requiring that certain properties have backflow prevention devices installed, the Water Supply Bylaw also sets requirements for maintenance and testing. Testing is required after the installation of a backflow prevention device, then annual testing is required every year thereafter. The owner of the property must keep records of site surveys and tests, and they must also submit annual test reports to the city.
Complete Backflow Prevention Device Services in the Greater Toronto Area
Our technicians are certified professionals offering a full range of backflow prevention device services in the GTA. We can perform the necessary site surveys to assess your risk and determine the type of device that is needed. We also install backflow prevention devices and we can work with you to ensure that you meet your annual requirements for testing and reporting. For backflow prevention device testing, inspection, or repairs in Toronto – contact the team from ADP Toronto Plumbing.