We provide full trenchless sewer & pipe repair services across the Greater Toronto Area.
Problems with underground drains are not uncommon in Toronto. In many cases, it might be as simple as a clog. Of course, the pros from ADP Toronto Plumbing can come to provide a variety of solutions to remove clogs and get your drains moving.
Aside from clogged drains, you also have to consider that the drain line could be damage and in need of repair. For situations like these, the plumbers from Adp toronto plumbing offer an array of solutions for trenchless pipe repair service.
Our trenchless drain repair services have several advantages over conventional methods for drain repair. Most notably, it cuts down on the disturbance on the property and it limits the disruption to the drain service. Along with that, trenchless pipe repair is more cost-effective than methods that require extensive excavation.
Drain Inspection
The first step in trenchless drain repair is to perform an inspection of the line. A technician will arrive on the scene and use a fiber-optic CCTV camera to inspect the line. With this equipment, the technician will be able to look for blockages, signs of collapse, cracks and other defects. With the information gained during the inspection, the technician can then diagnose the problem and recommend an appropriate course of action.
Trenchless Sewer Repair Methods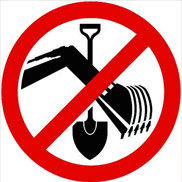 Depending on the damage or the defect to the drain, the plumber on the scene may recommend one of two possible drain repair solutions. The most common options for trenchless drain repair in Toronto are cured-in-place pipe lining (CIPP) and pipe bursting.
CIPP is an ideal solution for situations where the pipe is still intact, but there are defects like punctures and cracks. With this method, the drain is repaired by running a resin soaked liner down the line. The liner is held in place using air pressure, and the epoxy cures in place, sealing the defects in the damaged line. This method can be good for long runs of drain pipe that need to be repaired, and it can also be applied to spot fixes.
Pipe bursting is a good solution for when the drain line needs to be replaced. With this trenchless drain repair solution, a bursting head is pulled down the line of the existing pipe while the new line follows directly behind. As the bursting head is drawn down the line, it fractures the old pipe and creates a cavity for the new drain line. This method can be good for drains that need to be replaced, and it can also work for situations where the drain needs to be upsized to a larger diameter.
No-Dig Pipe Repair Experts in Toronto
For drain repair in Toronto, contact one of the most trusted names in the region. We have been working on drains in the Greater Toronto Area for more than 15 years, and our crews have all of the training and equipment to provide you with the most reliable trenchless pipe repair service available. With ADP Toronto Plumbing, you have a team that is dedicated to providing high-quality service for all of your plumbing concerns.
As an alternative to standard method of sewer or drain pipe placement, no dig solutions can be carried out in a fraction of time and with a fraction of man power and in locations that excavation may be unwanted. Who wants to dig up their entire lawn, destroying landscaping work and making an unsightly mess, when the work can be conducted by digging out a few holes? This is the benefit of a trenchless pipe replace solution.
Call us today for a free consultation – describe to us your situation and what you are interested in accomplishing – a no dig pipe replacement solution may be the right fit for your needs.